RuneScape Auto Typer and Auto Clicker
Information
This program was written in Visual Basic 6, and was designed to be an auto typer and auto clicker for RuneScape. It does not contain any spyware or viruses, and no one has ever been detected and banned for using it. It also has a calculator and update button. You can update the client whenever I make improvements by clicking the Update RS Menu button. Save the program to your desktop if you want to have access to it without redownloading.
If you found this page to be useful, please click the below button so that it will be recommended to people often in Google Search.
I recently received praise from the guys over at a website called Pokerlistings for my work with RuneScape Auto Typer. Their team is currently working on a campaign to promote online gaming projects and tools. Here's what they had to say about RS Auto Typer: "We're a bunch of RuneScape junkies here at the office, and having a tool like auto typer is very useful. We'd just like to say thanks for your hard work and wish you luck with your future projects!"
Auto Clicker
Open up the auto clicker from the menu. Set a speed that you want to click in seconds and milliseconds. Click start and wait about 5 seconds. At that point, the clicker will click the mouse at the rate you set, and it will click wherever the mouse is hovering. Press the F2 key to stop it, or the F1 key to start it back up.
Main Menu

Auto Typer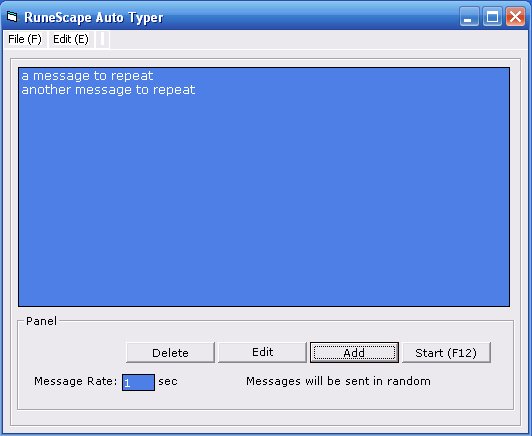 Auto Clicker