Neopets Auto Buyer

Purpose
The Neopets Auto Buyer will search the Shop Wizard several times and automatically purchase any item you wish below a specific price.
Installation
Download autobuyer_setup.exe (4835k) and run the installer. The installer will create a shortcut on your desktop, along with all the neccessary components such as GTK+ for displaying the graphics. The installation of GTK+ will only include the .dll's and executables necessary for this application to run.
Usage
Simply enter your username, password, the item you want to buy, and your maximum price and just hit the start button. It may freeze for some time while it scans the market.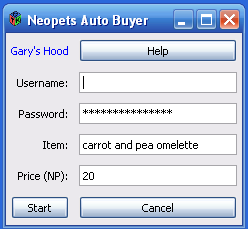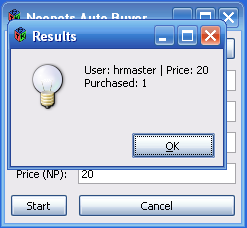 Disclaimer
This is not a virus or some kind of account jacker. To be perfectly honest with you, I don't want your neopets account! I have zero interest in it. I even posted the source above, have a knowledgeable friend look through it. If you are completely paranoid about this, and I can't blame you, then only use this program on an alternate account.
Lastly, ask yourself this. I've spent countless hours building a trusted user base with countless applications that are far more advanced than this. You can see all the code I wrote above. Would I have really spent all the time making a working application for you to enjoy if I was just going to make it do something malicious? If you don't trust this, then don't download this.