Auto Clicker and Auto Typer
Application Usage
Once you download this free auto clicker and typer, start the application to view the menu. In the menu you'll find both the clicker and the typer programs. There are several hotkeys that can start either program, so use them to choose which of the two you'd like to use. If you'd like to view screenshots and tutorials of our free mouse auto clicker and auto typer, check out the screenshots, tutorial video, and additional usage instructions below.
After downloading, you do not need to install the program and it can be deleted at any time - just drag the app icon to your Recycle Bin.
Information
Designed to be an auto clicker and auto typer in RuneScape, you can use this free program for any number of games and applications. Written in Visual Basic 6, this program has never been detected or banned by any site or game.
Additional features include a calculator and an update button which you can use to update the client whenever improvements are released. If you want to maintain access without redownloading every time, simply save the program to your desktop.
Auto Typer Tutorial Video
Auto Clicker Guide
Follow this guide to use the program:
Open the auto clicker from the menu
Set the speed that you want it to click. It's available in seconds as well as milliseconds.
Click start and then wait about five seconds.
The clicker will now click the mouse at the set rate wherever the mouse is hovering.
To stop, click F2
To start, click F1
The current auto clicker and typer works on any version of Windows, but you can also download a Linux Auto Typer as well.
Main Menu

Auto Typer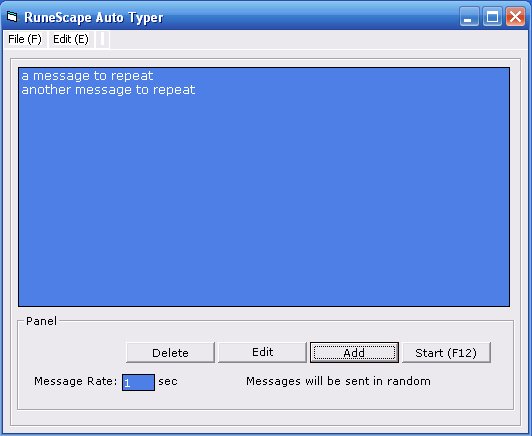 Autoclicker