5 Tips for Using Acrylic Resin Like a Pro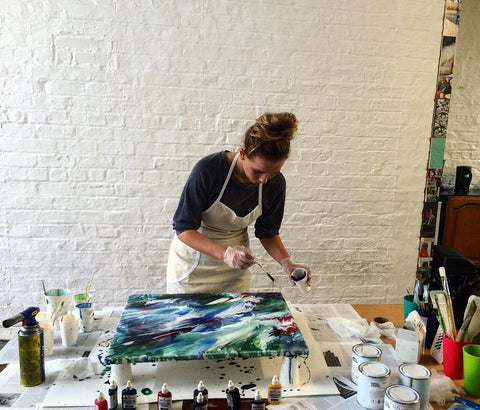 Are you looking to take your craftsmanship with acrylic resin to the next level? Whether you're a beginner or a professional artist, this blog post will help you master the art of working with acrylic resin.
We'll share five tips to help you become an acrylic resin pro in no time. From prepping your materials to the perfect curing process, we have all the advice to help you enjoy your acrylic resin projects. So, let's learn how to use acrylic resin like a pro.
Table of contents
Measure and mix your ingredients
Choose the right tools
When working with acrylic resin, it is crucial to have the right tools. For instance, consider a plastic spreader or brush, a container and spoon to measure your ingredients, and a stirring stick to mix them. Also, use protective gloves and a respirator to protect yourself from acrylic resin fumes when working.
Prepare your workspace
Choose a suitable working surface, such as a wax paper-covered table or tray. Ensure to select a flat level to set the acrylic resin evenly.
Also, select a well-ventilated space away from potential sources of heat, flame, and sparks. Next, cover the area with a protective material such as plastic sheeting, tarps, or newspaper. This action protects the surface from accidental spills and drips. With proper preparation and tools, you can begin working with acrylic resin.
Measure and mix your ingredients
When working with acrylic resin, it"c7">Incorrect ingredients measurements can lead to disastrous results. So it is crucial to take accurate and careful measurements.
Begin by pouring the desired amount of resin into your container. Then, add the amount of hardener according to the instructions on the product packaging. Stir the mixture slowly and carefully until it blends.
Avoid leaving any lumps in the mix, as this will cause uneven curing of the acrylic resin. Once you have reached a uniform consistency, pour the acrylic resin into your mold or casting.
Pour your mixture
The first thing to remember in this step is that the container should be heat-resistant and sturdy enough to hold your mixture. Avoid containers with seams or sharp corners, as they can create air bubbles that remain in the resin.
Next, ensure you have a steady hand when pouring your acrylic resin. Pour the resin slowly and steadily to ensure an even distribution within the container. Besides, pouring the mixture too fast can cause air bubbles to form. If possible, use a pouring device such as a funnel or pouring spout to guide the flow of the resin.
Next, observe the formation of air bubbles on the surface. If air bubbles are present, gently pop them with a torch or heat gun. After popping the air bubbles, allow the resin to cure according to the manufacturer's instructions.
Cure your resin
The curing process ensures that your acrylic resin turns out perfectly. The curing time will depend on the temperature and humidity of your workspace and the type of resin. It takes anywhere from 24 hours to several days for the acrylic resin to cure completely.
Also, perform the curing process for acrylic resin in a warm environment because heat speeds up the process. Also, use a curing agent to harden the resin faster. Ensure to read and follow the instructions carefully when using a curing agent.
Once the acrylic resin has hardened, remove excess resin and prepare to work on your new project. Remember, some types of acrylic resin may need polishing or sanding for a smooth finish.
Conclusion
Using acrylic resin is an excellent way to create beautiful artwork or crafts. With the right tools and preparation, you can achieve impressive results. Also, by following the five tips outlined in this post, you can be confident in creating perfect resin projects like a pro. For more information on Top SEO Agency please visit Pro SEO.